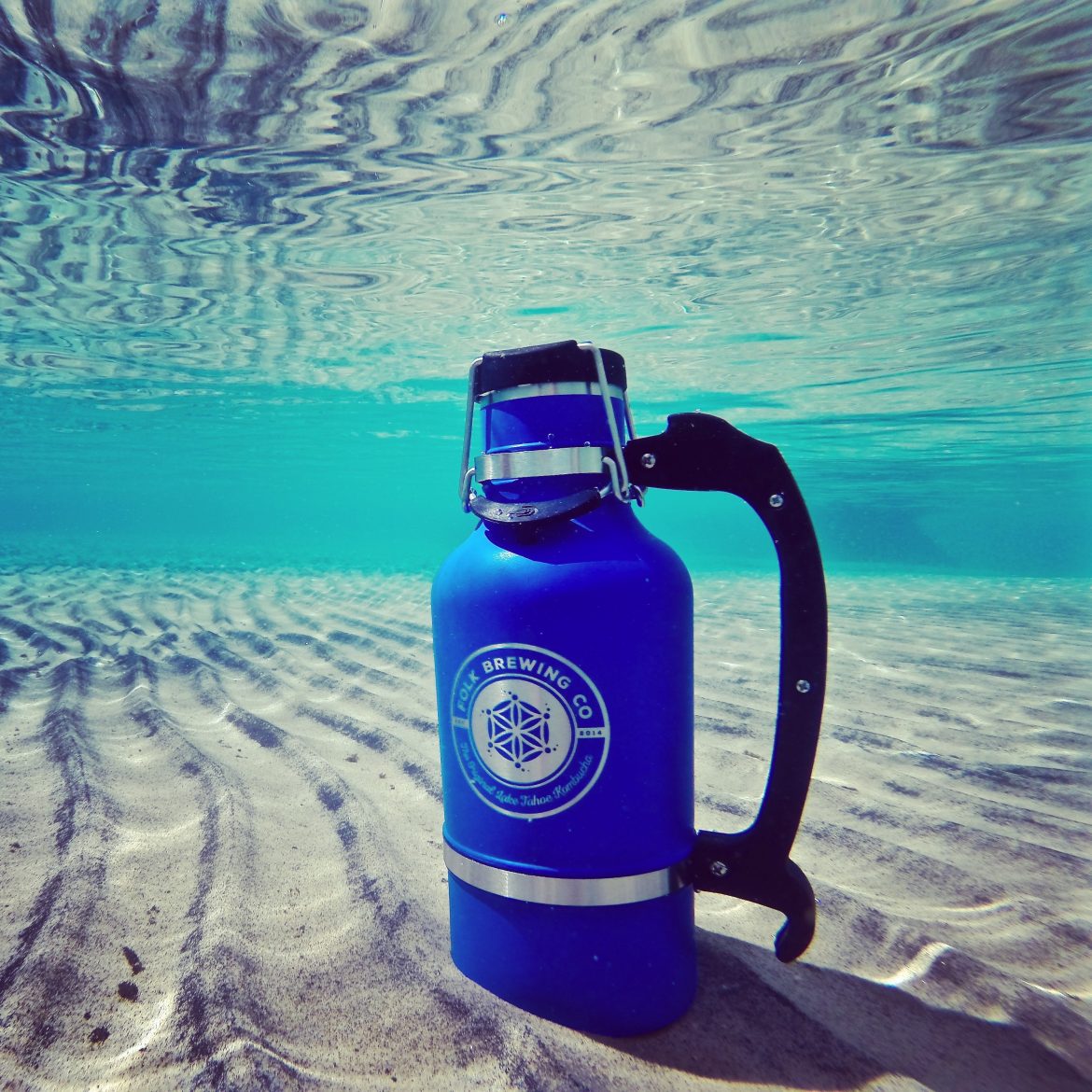 Tahoe Tea
Friends Bring Heart-Sourced Kombucha to the Sierra Nevada
By Katrina Paz, Sierra Living
There are many things that make a product special: Where it's made, how it's made and who makes it. FOLK Brewing Co. incorporates all these qualities into its intricately crafted teas, which come from the hearts and minds of three close friends, using water sourced straight from Lake Tahoe.
FOLK was founded in 2014 by Brett Kendall, Doug Baehr and Jennie Fairchild. It's possible they were inspired to take the leap by the previous evening's winter solstice revelry in 2013, but regardless of the reason, the three decided to make a longtime dream come true. And even though the business came to fruition quickly, the foundation had been steeping for quite some time.
Kendall and Baehr are chefs, both drawn to organic, sustainable and innovative food. They've been active in the regional culinary scene for over a decade: Between the two of them, they've worked at (or owned) Stony Ridge Café, Uncommon Kitchen and Rawr. And originally, more than 20 years ago, they worked together at Tahoe City's iconic Wolfdale's Cuisine Unique—and have been developing and refining their kombucha ever since.
While kombucha is still making its way into the mainstream, the trio's libations have garnered an almost cult-like following. They educate non-kombucha drinkers at local festivals and events. And though they call their company FOLK Brewing Co., their blends are purely non-alcoholic (kombucha is a naturally sparkling tea fermented by SCOBY, a symbiotic culture of bacteria and yeast).
The Infinite Eight, FOLK's standard eight flavors, along with six seasonal flavors, were created to pair well with food as well as work as complementary mixers with beer, wine, champagne and spirits.
They make them from scratch, using only organic ingredients. There is no added vinegar, artificial flavors, extracts or pre-pressed juices. The teas are flavored with flowers, roots and herbs, and slow-brewed in small batches.
Standard flavors include Original Jedi Oolong, Tour de Fleur and Berry Hopps. And while everyone has their favorite, Fairchild says that Evil Jungle Prince, with lemongrass, kaffir lime leaves, fresh ginger root and Serrano chilies, is a light and spicy popular choice, as is the Chamomile Cardamom, a more subtle blend aimed to calm and relax. The Roots 'n Culture also tends to be well-liked and is strongly reminiscent of root beer, with its blend of sarsaparilla, licorice, chicory, burdock and ginger root.
"People are still learning about it, which makes it fun for us," Fairchild says. "So many people are drinking it for the very first time. We get a lot of smiles. It's very different from commercial kombucha. We definitely have an artisan approach."
In fact, FOLK's blends are only available on tap from stainless steel kegs and can be found in stores, restaurants, bars and breweries in the Reno-Tahoe area. The company owners hope to expand soon and open their brewery to the public, but for now they are taking it one step at a time.
Fairchild emphasizes the company is definitely local, tight-knit and hands-on. They are self-owned and self-distribute, and only recently hired their first employee.
"We are trying to grow intentionally, making sure we do things right," she says. "Eventually we'd like to evolve into bottles; however, we want to make sure we do it in a way that doesn't compromise the quality of our product. Also, once we get into bottles, we want to keep in mind the environmental aspect of our packaging. With kegs, we can reuse our containers and keep our product as fresh as possible."
The friends' philosophy toward food, tea and life is the core of their growing success. They chose the name FOLK because it's the acronym for Flower of Life Kombucha, but more importantly because it's defined as "relating to the traditional art or culture of a community."
Link to original story in Sierra Living: https://www.sierraliving.com/2018/09/20/tahoe-tea/